Open Post | Tuesday, March 9th
Posted on: March 9, 2021
Sunday Notebook | Flight/Hooks Training Session
– CJ Vogel
I was up in Plano this afternoon for a workout session between Coach Flight's DB's and WR coach Margin Hooks' wide receivers. The joint workout allowed for a very impressive one-on-one session from which I have some notes to share.
---
*** First off the bat, the 2023 WR class is going to be absolutely loaded. I'm starting to think of dudes that will crack the top five of the class and there's probably close to 10 names that come to mind right off the top.
Good luck ranking the following: Braylon James, Johntay Cook, Jalen Hale, Jaden Greathouse, Mikal Harrison-Pilot, Cordale Russell, Jaquaize Pettaway, Randy Reece and Montrel Hatten.
*** Texas commit Evan Stewart was in attendance and pulled off one of the crazier catches of the day.
Stewart told me afterwards the he was at about 35% after a busy week of workouts, track and training. So if that is 35%….
*** Texas had another commit in the fold with Lewisville's Armani Winfield. I really like Winfield's game. He was dominant once again despite six 7-on-7 games in the past two days.
*** I'm sure Darius will have more as this recruitment ages, but DeSoto's Johntay Cook was stellar. Cook recently had a virtual visit with Texas and told me he was able to connect with Steve Sarkisian and Andre Coleman. He said Sarkisian was able to pitch to him where he'd be used in the Texas offense and was a fan of what he had heard.
*** I've mentioned a few of Temple's 2023 prospects a few times but one stands out to me in terms of flying under the radar – Naeten Mitchell. He was clamps in one-on-one drills this afternoon. He mentioned a couple schools have taken notice but no one has offered so far.
*** North Mesquite's 2023 WR Cordale Russell is going to be a dude to know. He mentioned that he had been in contact with USC and Texas recently and already had eight offers under his belt.
*** Justin Northwest QB Jake Strong looked real good once again. The 2023 QB class has yet to really establish itself, but he's going to be a guy regardless of who else emerges.
*** I mentioned talented WR's in the 2023 class earlier, but perhaps my favorite of the bunch is Del Valle's Braylon James. Any jump ball in the area is his. Great hands, tremendous jump radius and football knowledge.
*** One last 2023 WR is Richland's Ashton Cozart. Hard to find many receivers that are able to create such space off the release. Store this name away.
---
Quick Hitter | Duncanville
– CJ Vogel
Yesterday, I was over at Duncanville to check in on a number of the state's best that put on the Panther uniform in the fall.
After talking with Cameron Williams and Jaylen Early, it sounds as though Texas is not pursuing either. In fact, neither listed the Longhorns as a school that has been in contact with them recently.
While DE Omari Abor was not at school to talk with in person, I was able to dig up that Abor has not heard from Texas since the coaching staff change.
For whatever the reason is, Texas is not making a real push at Duncanville in the 2022 class. They recently offered 2023 CB Deldrick Madison, though it does not appear like the staff has really made a deep impression at one of the state's best at producing talent year to year.
---
2022 Denton Ryan CB Austin Jordan Talks Top 3
– CJ Vogel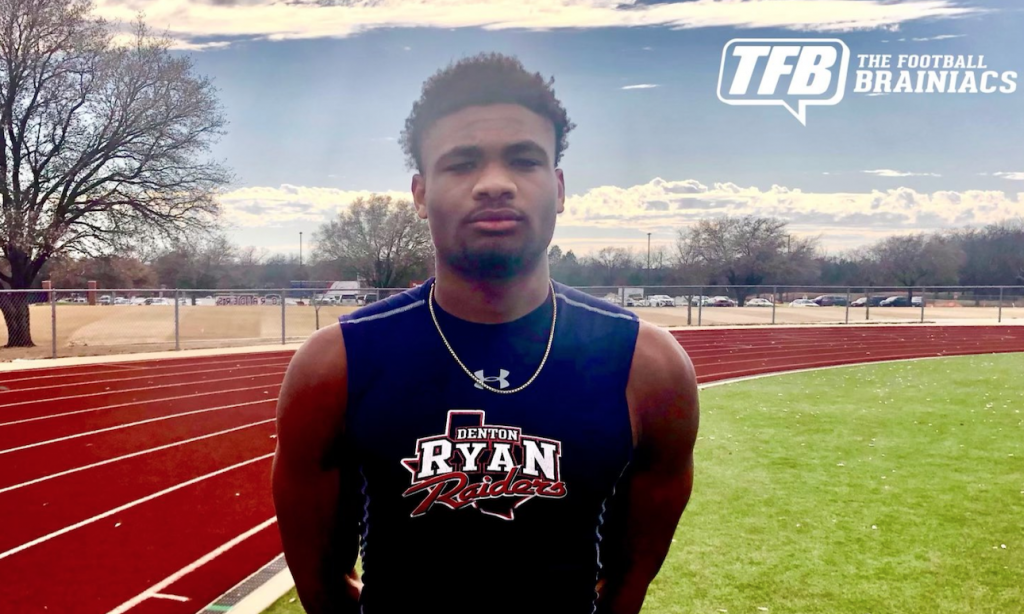 It was rather perfect timing when K and I planned my weekend around the metroplex last week. 2022 Denton Ryan CB Austin Jordan dropped a top three of Oklahoma, Texas and Ohio State on Wednesday, and I was scheduled to head over there on Thursday.
So let's dive into my conversation with Jordan.
"Communication with the coaches," said Jordan about why he narrowed things down to those three schools. "Once again, we talk almost every day. All those coaches have good personalities and talk about stuff outside of football."
Jordan had been on Texas' radar for a while dating back to when the old staff was recruiting his teammates JaTavion Sanders and Billy Bowman. And when the new staff came in, they re-offered on February 4.
"It's starting," Jordan said of the relationship with the new staff. He added that he was scheduled to have a phone call with Terry Joseph following our conversation on Thursday.
Texas also has signee JaTavion Sanders working in their favor as well. Jordan said Sanders has been in his ear trying to keep him from heading north for his college decision. While Sooners' signee Billy Bowman Jr. is doing the complete opposite.
For the time being, the recent string of momentum in the 2022 class has caught Jordan's attention.
"(Sark is) reeling in a couple of those '22's. I know they're good coaches, coming from Alabama, probably will turn the program around. We'll see though."
While there are three teams in the race, I have a feeling this recruitment still has a little ways to go. Jordan mentioned wanting to be able to visit all three campuses before having a decision made and with the Dead Period still in effect until May, it may be a while before a decision actually comes.
Jordan has been down to Austin in the past. I believe he made it down with Bowman Jr. and Sanders for the LSU game in 2019. He has been to Oklahoma as well, though has yet to visit Columbus to see Ohio State.
A silver lining for the Longhorns here is that Jordan seemed very interested to see what the new-era Longhorns will look like under Steve Sarkisian. He hinted at the last couple of years as a reason that would have deterred him had the old staff stayed.
Ohio State has two cornerbacks in the 2022 class and another commitment from ATH Dasan McCullough who is expected to stick in the defensive back room in college. Worth keeping an eye on in terms of filling up early.
---
MY TAKE
I got the sense that Texas is running in the third position for Jordan. I don't know how much they are really pursuing him right now with a couple DB's in the mix and Denver Harris still being in play at what I would assume the top of their board.
I didn't get a sense of a true leader, but I feel confident in saying OU and tOSU are running a bit ahead of the Longhorns.
---
Quick Hitter | 2023 5-Star QB Arch Manning
– CJ Vogel
*** I was able to connect with a source over the weekend that is pretty well connected to Arch Manning and his family.
*** The source told me that the Mannings are very fond of the work Steve Sarkisian has done over the years and are ultimately big fans of how he works with and develops quarterbacks.
*** It's still early for Manning's recruitment, but the source said if he had to guess who is making headway early on it would be the trio of Alabama, Clemson and Texas. Said he would expect one of those three schools to end of earning the signature from Manning when it is all said and done.
*** Manning is currently rated as the No. 1 QB in the 2023 class.
---
Recruitment Wide Open for 2022 Allen OL Neto Umeozulu
– CJ Vogel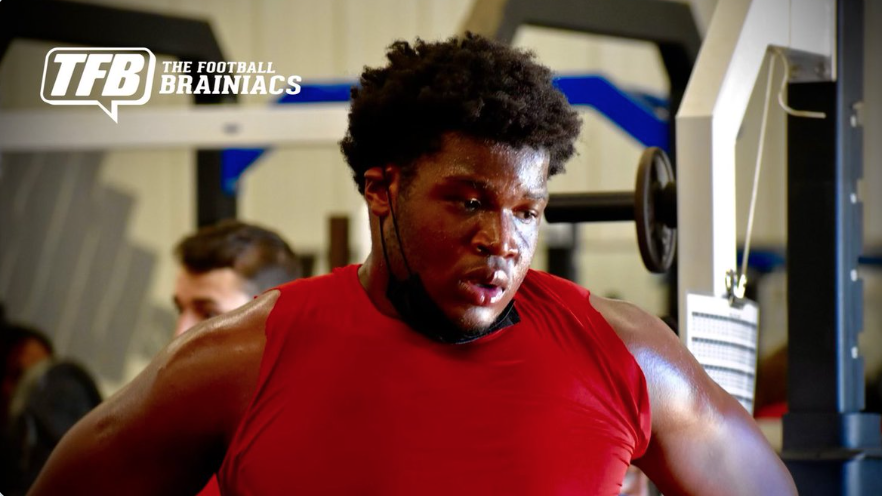 The gates at Allen opened up for the first time in quite some time and I was able to head over to see the stocked cupboard of talent which includes 2022 OL Neto Umeozulu.
Umeozulu is a rather quiet kid but his recruitment is anything but under the radar. With 31 offers, Umeozulu is in contact with a great number of coaches day-in and day-out. Among the schools he listed as ones pursuing him the hardest, he listed Texas, Oklahoma, USC, Ohio State, Baylor and Texas A&M.
Texas is quite invested in the recruitment of 6-foot-4-inch lineman. Umeozulu told me he is in contact with Steve Sarkisian, Kyle Flood and Jeff Banks, three of the strongest recruiters the Longhorns have to offer on their coaching staff.
"All Gas, No Brakes, that's their thing," Umeozulu said in regards to the pitch the Longhorns are giving him. "They've got something going on right now."
Umeozulu told me he has been hit up by a number of current commits in an effort to swing him to Texas.
But for the time being, things are pretty open for Umeozulu, who said he has yet to really narrow down his top schools list or establish a couple schools ahead of the rest of the pack.
"I've still got an open mind. I still want to take my visits so it's fair game with all the schools interested."
Umeozulu said he hopes to take his official visits to some of the schools out of the region. He said he will unofficially visit schools he can drive to just so he can have a wider range of knowledge with all of the schools that are recruiting him.
Again, I didn't get a good sense of where things were heading with Umeozulu, as I got the sense he is completely open to any options at the moment. The Longhorns have been in good contact, but I do have questions about where he is on their big board despite the 3-headed coaching approach to his recruitment.