Open Post | Weekend, March 12th – 14th
Posted on: March 12, 2021
Trip to Lewisville | 2023 DT Jordan Renaud, 2022 RB Damien Martinez
– CJ Vogel
On my trip to see Texas commit Armani Winfield at Lewisville, I also was able to catch up with recent Texas offer Jordan Renaud and one of the more underrated 2022 prospects RB Damien Martinez.
---
Jordan Renaud
The cat is out of the bag about Renaud. Recent offers from Texas, Oklahoma, Arizona State and Texas A&M have firmly put Renaud on the map.
At 6-feet-4-inches, Renaud is a massive figure. And it's likely he continues growing. His father, who played football at East Carolina, is 6-foot-7 and Renaud believes he still has some room to grow.
After moving to Lewisville from Fort Lauderdale a little over a month ago, Renaud says he is super excited to get a taste of Texas HS Football. He talked about the speed of the game in Florida being something that will benefit him in his transition to the lone star state.
Renaud started playing football in the 7th grade, so really he's only played four legit seasons. But that hasn't stopped college coaches from being enamored in his potential. One thing I really like about Renaud is his dedication to the grind of working out and training.
On the recruiting side of things, he said he is talking mostly with Texas A&M, Texas, Miami. Texas DL coach Bo Davis recently had an in-depth conversation with Renaud's father and has been very active in this recruitment early on.
For the time being, I don't think any one school has really separated themselves from the pack. Like Texas, should the Sooners begin ramping up the heat, I believe they will have a good chance at keeping him out of SEC Country.
---
Damien Martinez
I don't know why more schools haven't looked Damien Martinez's way in recruiting. Martinez led the area in rushing yards last fall with over 2,000 yards on the ground and the Lewisville coaching staff raved about his hard work on and off the field.
Right now, he has just three offers: Georgia Tech, Kansas and San Diego State. He mentioned Georgia Tech being really after him right now.
---
Gracen Halton | In-Person Update
– Super K
Texas recently offered 2022 Oregon DL commit, Gracen Halton (San Diego, CA).
I spoke with Halton after practice. I asked him why the early commitment to Oregon. He said that with the uncertainty of Covid and the fact that Oregon had been so consistent in the recruitment of him, he felt it was the right move. He also said he has some family ties to the Oregon staff.
On Texas, he said he was offered by the old staff and then when Sark came in they re-offered him. He said he's in touch with coach Bo Davis on a weekly basis.
He said he's solid to Oregon but said that if things open up and Texas continues to recruit him, he'd definitely like to take a visit to Texas.
---
5-Star DB Jacoby Mathews Talks Longhorns
– Charlie S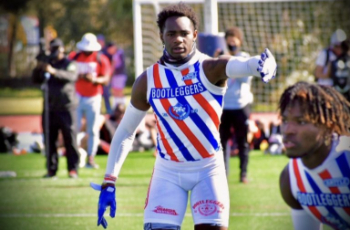 As you all know, elite 2022 defensive back Jacoby Mathews (6'1″ 205) out of Ponchatoula, LA, recently included Texas in his top 6.
We recently spoke to a source regarding Mathews top group of schools and one of our partners was down in New Orleans last week and he spoke with Mathews about the Longhorns.
One thing that stood out to us about Mathews and Texas was the built-in ties he has with the program. Both of the guys who coach DBs now for Texas have prior relationships with him.
Coach Gideon had been recruiting Mathews while at Ole Miss and Coach Joseph was recruiting him at Notre Dame. The connection with Joseph runs even deeper though. Mathews high school coach actually coached Terry Joseph and Mathews had a relationship with Joseph even prior to being recruited by any school.
With those relationships comes trust, which is a huge aspect of Mathews recruitment. Mathews said, "I know I can trust their coaches (Texas') because they are coaches that were good when they played, and they have had success as coaches at their prior schools. I have no reason to not trust them".
Another thing Texas has going for them is the state itself. Mathews said "I think it's a great state to live in. It's big and it's a wealthy state and there are a lot of people there. I feel like Texas is a place I would like to live even if I wasn't playing football."
LSU and Florida are likely the current leaders but it's not clear by how much. K Was told that OU and Texas "are like like 3a and 3b". The sense we got is Mathews might like to leave the state.
---
TreVonte' Citizen | Initial In-Person Update
– Super K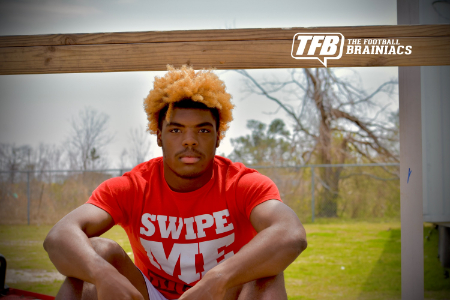 Texas is looking to take two running backs in this class. With Jaydon Blue already in the fold, there is one more spot.
It seems their top priority is 2022 RB, TreVonte' Citizen (Lake Charles, College Prep).
I stopped by to see Citizen earlier this week and wanted to give you all my initial impressions.
There are players you see who are listed at a particular height and weight and they just don't stack up. Then there are guys like Citizen. I mean, this is a powerfully built young man. No question he can produce a ton of force. You're talking a legitimate 220 lbs with room to add. He's going to end up being a muscular 240+ lb back who can run. Not someone you want to tackle.
Schools that seem to be in this one right now are LSU, Texas, Texas A&M, Georgia Tech, Arkansas, and USC.
I've been doing this long enough to be able to get a pretty good read through facial expressions and body language. When I asked him about Texas, his face lit up.
He said Stan Drayton is like a father figure to him. And, it's clear Brandon Harris is putting in some serious work here. It's clear that he and Harris have a built a genuine bond that should play a role in this recruitment.
Citizen said he wants to have a solid idea of where he's headed by the summer. So, look for him to take his official visits this summer (assuming the NCAA lifts the visit ban at the end of May). Texas will get an official but I wouldn't be surprised if he heads over to Austin for a self-guided tour sometime soon. He is going to College Station for a self-guided tour, this month. And, he's headed to Atlanta this weekend and plans to do a self-guided tour of Georgia Tech.
He has a number of schools recruiting him pretty hard and if folks had seen him in person, there'd be even more. But, my sense is Texas and Georgia Tech have built unique bonds with him.
Once I come off the road, I can go back over my notes and provide additional notes on this recruitment.
---
2023 Denton Ryan LB Anthony Hill On Pace to Be One of State's Best
– CJ Vogel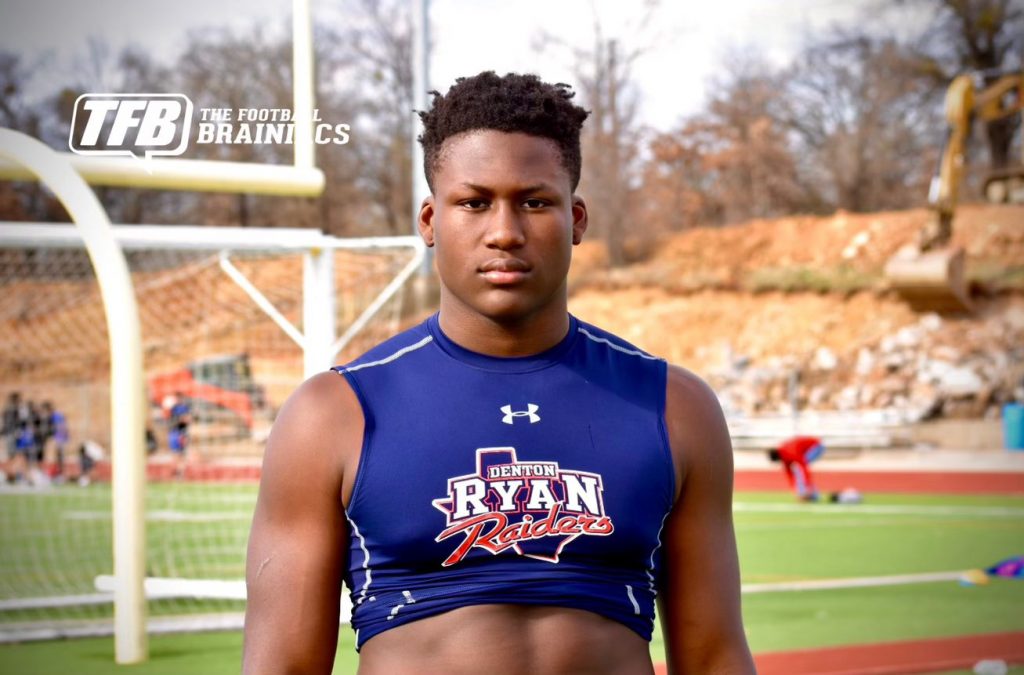 Another bonafide stud is going to be coming out of Denton Ryan. 2023 LB Anthony Hill has already amassed 26 offers as a sophomore in high school and is firmly on the radars of every school in the area.
I stopped by Denton Ryan last week to get an initial update on where things stood in his recruitment and what type of conversation he is having with the Texas staff.
"It's been fun getting to talk to different schools and everything," Hill said. "But I have been trying to keep my options open and work hard."
Early on in his recruitment, Hill said he is hearing a lot from Texas, Texas A&M and Alabama who have been hitting him up the most among the number of schools that have already extended an offer.
Hill has been in communication with head coach Steve Sarkisian, a sign that Hill is at the very top of the priority list for the 2023 class.
"I've been talking to Sark a lot. He's real cool, we've been just having normal conversations about track and my day. Just normal conversations to get to know him."
There are going to be a lot of pulling factors in this recruitment. Denton Ryan has no shortage of talent has sent talent all over. JaTavion Sanders is signed with Texas, Billy Bowman Jr. is an early enrollee at Oklahoma and Bear Alexander is already committed to the Georgia Bulldogs.
Hill mentioned all three of his teammates have been in his ear trying to recruit him to their schools. Georgia just offered and when I went to speak with Hill, he said he had recently been on the phone with Glenn Schumann, the UGA LB coach.
When the dead period ends, Hill mentioned Texas, Ohio State, Alabama, Oklahoma and Texas A&M as the schools he is hoping to visit. He mentioned Oklahoma as the only school he has seen in person when he visited as a freshman before the shutdown.
Long ways to go, but Texas is in the top handful of schools early on.
---
Evan Stewart Opens Things Back Up
– Charlie S
The Longhorns lost the verbal commitment of '22 wide receiver Evan Stewart yesterday.
Checked in with K and he mentioned that, initially, in talking to people around him, they didn't see this coming.
Shortly after that, they mentioned that Evan basically wants to be able to further evaluate his options.
---
Quick Hitter | 2022 OL Kelvin Banks and Texas
– Charlie S
CJ is on the road but he just hit me up and wanted to drop a quick note.
The other night, 2022 OL priority Kelvin Banks (6'5″ 300) out of Humble, TX (Summer Creek) dropped his top eight.
CJ happened to have a visit planned with Banks for today so the timing worked out very well.
He wanted to let you all know that he feels like the Longhorns are in a very good spot here. One of the major impressions that CJ took away from the visit is that Banks is not all about the track record of the offensive line coach of the school he eventually chooses. He seems to be more about the relationship with the coaching staff and the direction he believes they are headed.
Banks also mentioned that commits Jaydon Blue and Maliik Murphy are hitting him up a lot.
Banks will likely take official visits to A&M, Oregon, LSU and Oklahoma State along with Texas.
One added note CJ asked me to include…Banks tells him he grew up a Texas fan.
He will have a more in-depth write-up on this in the future.