Open Post | Weekend, March 19th – 21st
Posted on: March 19, 2021
Observations from Under Armour Camp
– The Football Brainiacs
As y'all know, DT and CJ were out in Arlington this Sunday to watch the Under Armour camp at Martin High School. There were a ton of prospects and several Texas and Oklahoma commits in action.
We'll dive into some of the biggest takeaways that we had from the camp. CJ will have the defensive side of the ball, while DT will focus on the offensive playmakers.
---
OFFENSE
*** Allen 2022 OL Neto Umeozulu is built like a brick wall and has the length that coaches covet as well. The big man is agile and has a mean streak. I left Arlington believing that he is undoubtedly one of the best available in 2022. Legitimate 6'3 280+.
*** Arlington Bowie 2022 OL Devon Campbell lived up to his 5-Star billing. Campbell only need 3 reps for it to be made abundantly clear that he was one of the alpha dogs in attendance in the trenches on Sunday. 6'3 310+.
*** Houston Summer Creek 2022 OT Kelvin Banks checks a ton of boxes physically. The big man is athletic, with long arms, and very little bad weight. The upside clearly exists for a Sunday player. Legitimate 6'5 300+.
*** I didn't see Duncanville 2022 OT Jaylen Early get too many reps, but he held his own in the few that I did see. Early appears to be in the 6'3 280lb range. Major Sooner target.
*** Oklahoma 2022 C Demetrius Hunter looked like a natural in his couple of reps at Center. "Pancake" tried to get him one on each rep. Powerful, nasty player. 6'2 300+.
*** Texas A&M OT commit Hunter Erb took home OL MVP honors and had what was likely the most dominant rep of the day against a poor 2023 soul. Legitimate 6'5-6'6.
*** Duncanville 2022 OL Cameron Williams had an up-and-down showing in his handful of reps. It can be difficult to judge OL in these types of settings. One thing that isn't questionable is his size. He's a legitimate 6'6 325+. Williams holds an OU offer.
*** I thought that Frisco 2022 OL Cole Hutson had himself a nice day. He's got some nice feet to go along with a promising frame. Hutson is a legitimate 6'4 300lbs. Major Sooner and Longhorn target.
*** It was my first time getting to see Odessa Permian 2023 OL Harris Sewell in person. Sewell doesn't pass protect much at his high school, so it was definitely interesting to see him compete far away from home and out of his element a bit. He more than held his own. 6'2-6'3 280ish. Already holds a Texas offer.
*** It was a bit of a learning experience for Arlington Lamar 2023 OT Isaiah Robinson. It's easy to see what makes him so attractive to so many P5 programs so early with his physical tools. Legitimate 6'5 270+. Holds a Texas offer.
*** 2022 Texas WR commit Armani Winfield may have had the best day out of all of the Wide Receivers in attendance on Sunday. It was also reported that Winfield posted one of the fastest 40-yard dashes in UA Camp history. Still working on getting that time (I believe it was in the high 4.3 range.) Legitimate 6'3 195+.
*** Frisco Liberty 2022 WR Evan Stewart took all of his reps against some of the best guys in attendance. Stewart is sleek moving around the field, although the timing was often off today with unfamiliar QBs. Stewart is not a big guy at all. 5'11 160+.
*** I found myself impressed with 2022 Oklahoma WR commit WR Talyn Shettron. He's very fluid for his size and made some tough contested grabs look easy. He's going to be a good one. Legitimate 6'2 180+.
*** Longview 2023 WR Jalen Hale was smaller than I was expecting (I was thinking 6'2-6'3 nearly 200lbs watching him on tape) but he certainly plays like a bigger WR at the catch point and has an impressive catch radius with his wingspan and athleticism. #6 on the 2023 Top 20. 6'0-6'1 175+.
*** Pilot Point 2022 ATH Ish Harris is being recruited by most to play on the Defensive side of the ball (mostly LB) but decided to compete at RB during the camp because "LB is boring at camps." Harris is a fluid athlete and is bigger than I was expecting. Legitimate 6'3 200lbs.
*** Tyler Legacy 2022 RB Jamarion Miller was just too quick and fast for the LBs to keep up with on Sunday. He earned himself an invite to the UA All-American Game with his performance. 5'10 190ish.
*** Waco Connally 2023 RB Tre Wisner debuted at #14 on my 2023 Top 20 list last week and after watching him compete on Sunday I may have him a little too low. Wisner was unstoppable in 1-on-1s and has all of the makings of a nationally elite prospect. He will be a major target for the Longhorns and Sooners. 5'11 175+.
*** DeSoto 2023 WR Johntay Cook II is as smooth as it gets when it comes to getting in and out of breaks. He lived up to expectations on Sunday against some of the best. Cook debuted at #15 on the 2023 Top 20. 6'0 175+.
*** North Mesquite 2023 WR Cordale Russell maybe impressed me more than any other young WR in attendance. "Baby T.O." certainly looks the part and made some impressive grabs throughout the day. Buy stock now. Legitimate 6'2 185+.
*** It was my first time seeing North Richland Hills 2023 WR Ashton Cozart and he did not disappoint. Big, fluid WR that routinely made defenders look silly on Sunday. His stock is starting to take off. 6'2 185+.
*** Lovejoy 2023 WR Jaxson Lavender has my vote for top Slot option in the 2023 class at this early stage. Lavender is a speedster with excellent change-of-direction ability and sticky hands. His offer list is starting to expand quickly. 5'10 160+.
---
DEFENSE
*** Off the bat, Arlington Martin's DE Ernest Cooper was spectacular. He received his Under Armour game invite and was recognized as one of the camp's top performers. Cooper has a tremendous frame and build. Looks like a future NFL talent.
*** Texas commit and teammate of Cooper, Arlington Martin's Trevell Johnson had one of the best days of anyone at the camp. He moves like a safety and is able to make plays on the football that are pretty eye-popping. I really liked what I saw from him on Sunday.
*** When I went to Carthage and HC Scott Surratt told me LB Kip Lewis might be the best athlete he has ever coached, he wasn't lying. Lewis shined all afternoon in one-on-one's. He might just be the most athletic linebacker in the state.
*** Sooners DB target Jarred Kerr made a very nice interception on an out-route. He was not asked to do it much in high school, but if he is moved to cornerback, there will be a learning curve of playing press man. Regardless, very impressive outing.
*** I mentioned it briefly on the OU side, but the size of Chris McClellan is simply absurd. He's listed at 6'4″ and I have no doubt that he is. Texas and OU have yet to offer, and if they don't soon, you may as well put a pin in this one. On the contrary, Bear Alexander was surprisingly smaller than I anticipated in comparison to other DT's in attedance.
*** Perhaps the best DB in attendance was 2022 John Paul II CB Terrance Brooks. In one-on-one's, Brooks lined up against Evan Stewart and successfully won both reps with step-for-step coverage.
*** 2024 Parish Episcopal DB Daniel Demery is a candidate to spin down later in his career. His lower body is ginormous and he still has potential to grow. Will be a dude to follow.
*** It was good to see what 2023 Katy Morton Ranch DE David Hicks Jr. brings to the table in person. He's going to be one of the most coveted pass rushers in the country and he showed glimpses of why Texas, OU, Texas A&M, and Alabama have already offered.
*** DeSoto had a pair of cornerbacks that turned heads. 2024 Mario Buford is going to be special, he had a great day in coverage. And 2022 CB Devyn Bobby has picked up some smaller offers, but had one-on-one wins against Texas A&M commit Donovan Green, Evan Stewart and several others.
*** One day after winning the 6A State Championship on the hardwood, 2024 Duncanville DE Colin Simmons was in action. As a 6'4″ freshman, he's going up against Jaylen Early and Cam Williams in practice everyday. Imagine the monster he will be in three years.
---
Texas Trending Upwards for 2022 LB Harold Perkins
– CJ Vogel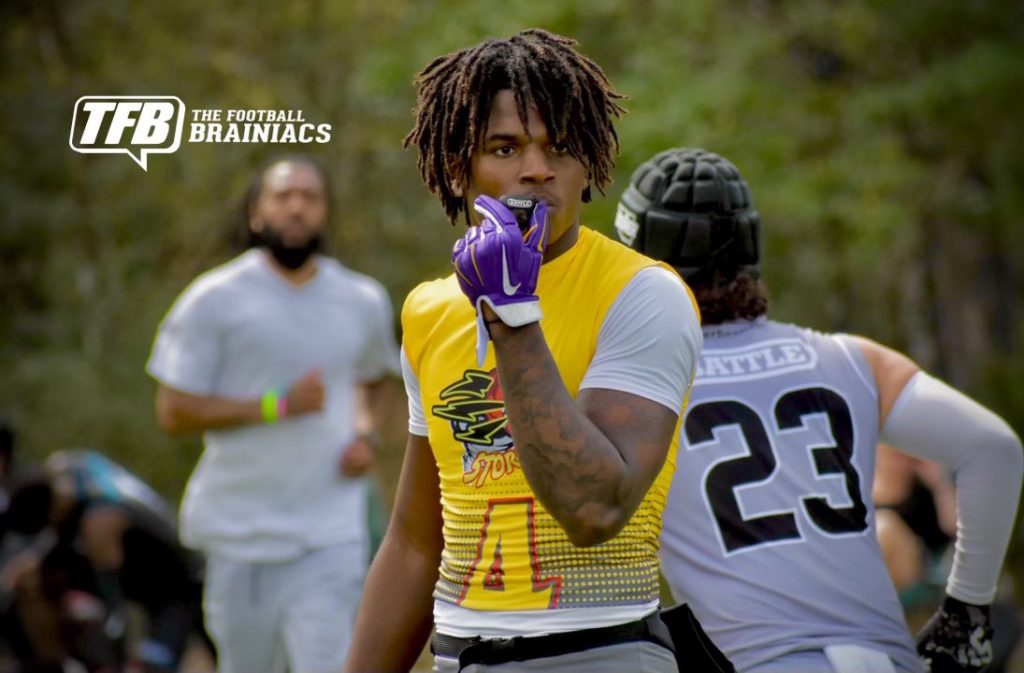 I was able to see Cypress Park 2022 linebacker Harold Perkins in person during the Endzone 7on7 tournament in The Woodlands.
The state's No. 1 outside linebacker was really impressive all weekend. Perkins played every snap on the defensive side of the ball and roughly 75% of every snap on offense. The dude is a playmaker and certainly lived up to expectations I had coming into the afternoon.
He listed Texas, Oklahoma, USC, Texas A&M, Florida and LSU as the schools hitting him up the most right now. Texas is very much in the mix here and I would go as far as to say they are right up near the top.
"Our relationship started a few weeks back, but it's real good," Perkins said. "It's nice right now. They stay in touch with me and they talk to me everyday. Coach Sark just hit me up and talked to me about the catch that I had. It's fun and I like them. Plus, I know they have what it takes to beat the top dogs."
There is a reason why Texas dropped a bag on coach Jeff Banks. The reputation of being an elite recruiter is really paying off, especially in the recruitment for Perkins. The Cypress product said he talks with Banks and Sarkisian the most 0n the staff and has really liked how they are establishing themselves with Texas.
"I know they know what it takes to be 'Bama. To beat teams like Ohio State and Clemson and all of that. They're doing it right now, they're trying to get the right pieces to the puzzle – to complete it."
Perkins said there have been a number of Texas commits in contact with him trying to lure him to Austin, but said it won't be a factor for him. He mentioned seeing a couple guys commit and then de-commit just a few months later because of outside factors get into their head.
Come this fall, Perkins hopes to see just exactly where he can fit in with the Texas defense.
"I am trying to find a role on their defense that I can play… Once I watch their defense I'll see kind of what I'll be doing."
Though Perkins has traveled down to Austin before, he said he has yet to really explore the campus. If he's able to, I would expect Perkins to visit all of the schools he mentioned previously and some extras just to carry out his due diligence.
Texas should really begin using the Name, Image and Likeness pitch with Perkins if they have not already. USC is another school in the mix for the 4-star and he loved the idea of being able to a big city and establishing a platform for himself in college.
Perkins also mentioned wanting to study Sports Broadcasting in college. He wants to stick around the game of football when he playing days are over and has his eyes set on a show like College Gameday when it's all said and done. (The Longhorn Network was made for reasons like this)
For the time being, this recruitment has a ways to go. Perkins said he will commit at the Under Armour All American game next January. He said he is unsure if he will sign a NLI in the early session and hold off with an announcement.
---
So Guess Which Players are Recruiting Jacoby Mathews
– Super K
While I was chatting with five-star defensive back, Jacoby Mathews, this past weekend he mentioned something noteworthy.
I asked him if any of the Texas commits are recruiting him and he said, Maalik Murphy and…
Bryce Anderson.
When this tweet was posted…
Most had him pegged for TAMU.
So, it's not a surprise to us, least of all, that Bryce is trending heavily to Texas. Not only does this corroborate our reporting, but it also gives us a glimpse into what kind of impact Bryce can have on this class in terms of recruiting.
---
Quick Hitter | 2022 TE Sean Sallis Self Guided Visit
– Charlie S
As reported on Twitter by Mike Roach (Horns 247) I can confirm that 2022 TE Sean Sallis (6'4 220) out of Carrollton, TX took a self guided tour of campus today.
Sallis enjoyed his time in Austin and he mentioned that he has been in touch with Coach Banks for three weeks or so.
He mentioned that while he does not have an offer to this point, he plans on seeing the staff in person this summer.
Just a name to keep an eye on as he currently holds half a dozen offers or so with Minnesota being a big one.
---
Texas Working Hard for 2022 Atascocita OL Kam Dewberry
– CJ Vogel
I was able to stop by Atascocita on Thursday to see 4-star OL Kam Dewberry. With close to 30 offers under his belt, the 6'4″, 305 pound offensive tackle has been hearing from just about everyone notable across the country.
Texas is doing its best to make a move in this recruitment and will certainly find themselves in a top group of Ohio State, Alabama, Oklahoma, Texas A&M and LSU somewhere down the road.
Dewberry expanded on his relationship with Steve Sarkisian, Kyle Flood and the number of current recruits currently in his ear as well.
"Coach (Jeff) Banks, Sark and Flood are doing a heck of a job recruiting me," Dewberry said. "They are really pressing me really, really these last 2-3 months."
Hearing from Texas is nothing new for Dewberry whether it be the old staff or the new staff, but one thing stands out to the Atascocita product about Sarkisian's group, and that is attention to detail. Specifically when it comes to recruiting the family.
"Now I see a staff that is really pushing me and trying to recruit me and pursue me and treat me as a top priority versus the other staff."
Now, as everyone knows, the new staff brings a chance for Texas to return to the top of the Big 12 standings. In fact, that is exactly what Dewberry hopes to see from the Longhorns this fall.
"I want to see the past dominance they had in the Big 12," Dewberry said. "Like they used to run the Big12. They used to own Texas. I want to see how they do with that."
I mentioned that there were a number of commits hitting up Dewberry as well. He said he hears basically everyday from RB Jaydon Blue and QB Maalik Murphy. "They are blowing me up. Maalik, Jaydon Blue, Evan Stewart (this discussion took place prior to Stewart decommiting), Armani (Winfield) – those dudes are blowing my phone up. I guarantee one of them probably texted me right now. They really pursing me hard, but the hardest one out of all of them is Jaydon Blue. He's not stopping, he's pursuing me really hard."
One note that I thought was interesting during my conversation with Dewberry was Coach Flood recently visited on a Zoom call and broke down the film of Jedrick Willis during his time at Alabama, beginning when he was a freshman and showing the progressions he made until his senior year. Willis was selected in the first round of the 2020 NFL Draft.
When visits are allowed, Dewberry said he hopes to take official visits to Ohio State, Alabama and Oklahoma. He said Texas, Texas A&M and LSU will be in the next mix for the two final OV's then later added that Texas will most likely make the cut.
Dewberry said he will release a top five on April 17, his grandmother's birthday. I expect Texas to make the cut.
---
2022 Frisco OL Cole Hutson Talks Texas Visit
– CJ Vogel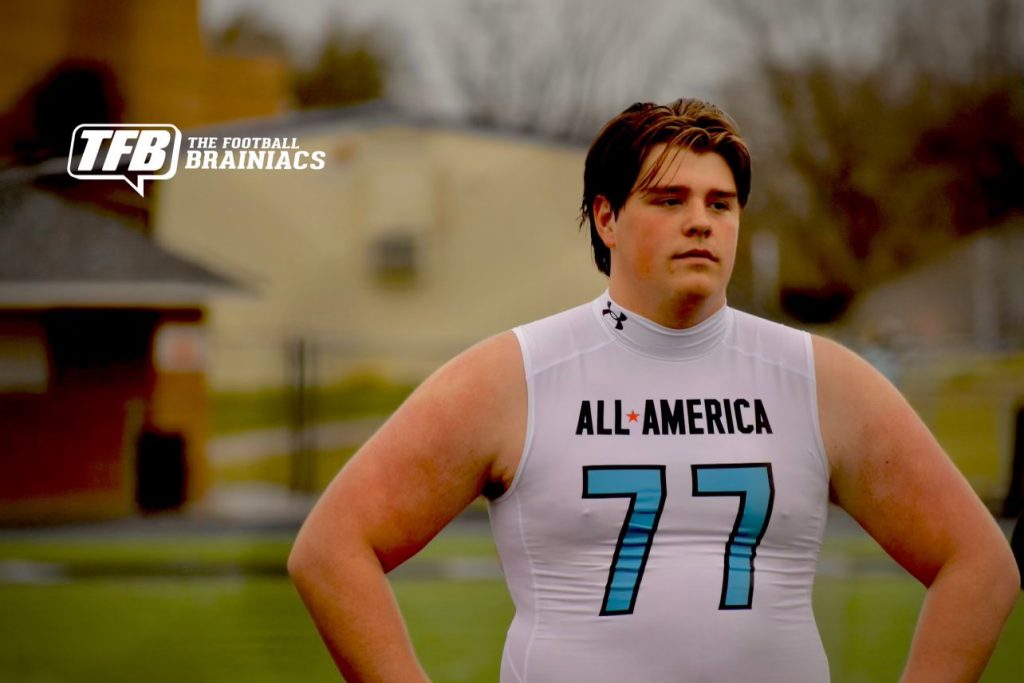 Sunday was my first time seeing 2022 Frisco OL Cole Hutson in person and I was pleasantly surprised with the way he performed at the Under Armour Camp Series.
Hutson was down in Austin last weekend to take a student tour of the Texas campus. It appears the Longhorns are making a very strong push for the Frisco native and he was open to talking about his interest in Texas and his relationship with the Texas staff.
"It was a really good experience, especially just to see how much there is to do in Austin, and just how big of a place it is" Hutson said. "You can go from anywhere to food, to just paintball – just the stuff you can do. Especially the campus. The campus is beautiful."
Hutson was able to find his way in to DKR as well and see the new south end zone up close, something that really caught his eye on the trip.
"You can see the renovations, and what is that $220M? That looks pretty. The gate was open to the stadium for a track meet and I got to go in and looked around and it was really, really cool to see."
Hutson has been incredible proactive when it comes to visiting schools despite the dead period being in effect. He said he has tried to see as many schools as possible to try to expedite the recruiting process just a bit.
As for the recruiting side of things, Hutson said he is getting calls from coaches pitching him all over the offensive line. He said there are a number of coaches pitching him as a center while others are seeing him as an offensive tackle. The versatility of Hutson is certainly going to pay off.
It goes without saying, but Texas is firmly in the mix here and the relationship between Sark and his staff and Hutson is only helping their chances.
"I know they are a new staff, but it feels like I have known them for a long time," Hutson said. "(Sark) is just a great guy. For one, he always texts me and we always talk weekly. The things he wants to do for the program are things I believe are really, really good. And I see that as a positive that they are moving in the right direction and that he is going to pick the program up on its feet in a few years."
Coach Kyle Flood is also having a big role in Hutson's recruitment as well.
"I love Coach Flood. Coach Flood does a great job of making me understand the little things. And just kind of being there, I don't know how to say it but he talks to me everyday."
Hutson said he has a tentative plan of narrowing things down close to the end of the dead period so he can focus on a small set of schools once official visits are allowed.
Right now, Texas is in a really good position moving forward and if they can knock it out of the park on an official visit when the dead period ends, I think their chances of landing Hutson are very high. OU will be a stiff competitor.
---
2022 WR Kevin Coleman Visualizes Himself in Sark's Offense
– CJ Vogel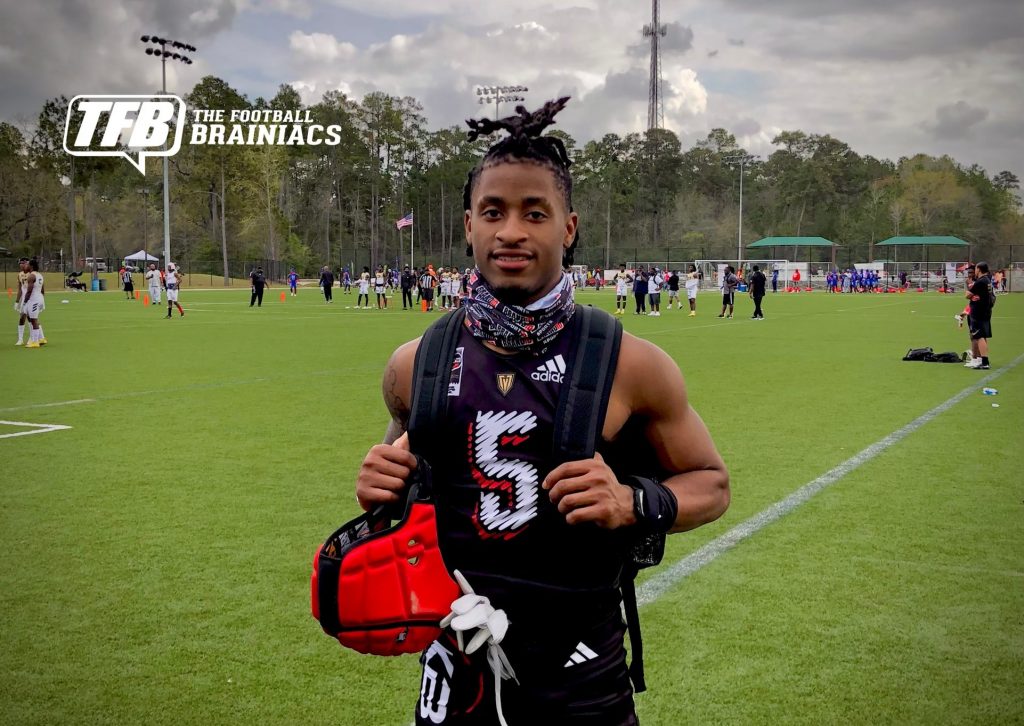 I was lucky enough to see one of the first games of 2022 WR Kevin Coleman at the Endzone 7on7 tournament out in The Woodlands. Coleman, a five star out of Saint Louis, Missouri, was in attendance and ultimately putting on a show of dominance.
If you remember from February, Super K put up a note about Coleman having a list of quarterbacks he was hoping to play with at the next level:
Kevin listed three of four quarterbacks that he wants to play with at the next level and among them was Maalik Murphy.
He said if Maalik goes to Texas then he'd like to play with him there.
Well, Maalik ended up pulling the trigger to Texas as we all know and I was lucky enough to catch up with him to get an update on where things were standing in his recruitment and in his relationship with Steve Sarkisian and his staff.
Coleman told me he is hearing from all eight of the head coaches in his Top8 that he released near the end of February.
"I hear from Sark often – daily," Coleman said. "Coach (Andre) Coleman – daily. If they are hitting you up everyday, and y'all just having general conversations, then they want you. My biggest thing and I tell them, is relationship. I gotta hear from them and build that relationship. And not just football, but other things."
Coleman mentioned wanting to visit all eight of the schools that made his top eight. Those schools are – Texas, Alabama, Oregon, USC, Georgia, Penn State, Florida State and Arizona State. He mentioned not being able to see many schools and wanted to hold off on any type of decision until he could see campuses in person.
With Frisco Liberty's Evan Stewart re-opening his recruitment, the need at the WR position increased instantly. I asked Coleman if he felt like he could step in right away and be a guy to make a difference at Texas.
"I know I can go to Texas and play right away. I feel like they have nobody of my caliber, like me. They need somebody fast and in the slot. I can play wide-out, and go to slot. Do everything the slot can do and also go wide-out and do everything a wide-out can do at 6'4″. I'm a guy that is 5'11" that can do what a 6'4″ receiver does out wide. That's what I think Texas needs to get them over the hedge."
Dangerous slot play is something that was on full display in Steve Sarkisian's offense during his time at Alabama. Of course, Bama WR DeVonta Smith was awarded the Heisman trophy for play specifically coming out of the slot WR position while also being flexed out wide when needed.
The season from Smith, the past history of Alabama WR's and pitch from Sarkisian is certainly something that is on the mind of Coleman when he evaluates the Longhorns.
"A lot of them play similarly. Jaylen Waddle-speed type of guy, I can go up and catch the ball. Jerry Jeudy-route-running type of guy, understanding space and timing. DeVonta Smith everything. So I see myself in each one of them."
---
Texas in the Mix for 2022 OK OL Jacob Sexton
– CJ Vogel
I was able to catch up with 2022 4-star OL Jacob Sexton out of Edmond, Oklahoma at the Under Armour camp on Sunday.
The Sooners are pegged the favorite for Sexton, but the Longhorns have been in contact with the talented offensive lineman and are certainly in the mix for him.
"I've been talking with Coach (Kyle) Flood and Coach (Steve) Sarkisian weekly," Sexton said. "We are setting up Zooms and FaceTimes and everything. It's been great and I'm really excited for that relationship to continue and we'll see where we go from there."
Sexton dropped a top five of Texas, Oklahoma, Oklahoma State, Texas A&M and Alabama on the first of February. He said among the schools in his top five, he has only visited Oklahoma and Oklahoma State, though both trips were rather brief and he was unable to see the entirety of each programs' facilities.
"Growing up, I was a fan of (Texas)," Sexton said about why he had the Longhorns in his top five. "Other than that though, they have really great facilities from what I have seen virtually… Really, all of their staff I have gotten to know well, coming from 'Bama and everywhere. Definitely, still, a great place to go."
Sexton added that he hopes to have a commitment sometime in the next six months or so. Before he gets to that point, he hopes to be able to visit each school to get a feel for the vibe surrounding each campus and city.
While Sexton said he grew up a Texas fan, I would not put too much stock into that statement. I don't think that childhood allegiance will be playing too big of a role in the remainder of this recruitment. Sexton had great things to say about OU OL coach Bill Bedenbaugh and should the Sooners deem him a take, I wouldn't be surprised to see him in the class come the end of the cycle.
---
2022 4-Star LB Working on June Official
– Super K
A quick note here on 2022 4-star Cali linebacker, Niuafe Junior Tuihalamaka (Bishop Alemany).
He tells me that he is working on setting up an official visit with Texas for the month of June. That of course is assuming the NCAA doesn't extend the dead period again.
Texas is very much in striking distance on this one and I don't think Junior will wait too long after his OVs to make a decision. Little doubt Notre Dame will also be one of his June officials. Last I spoke with Junior, I got the sense they were the team to beat.