Open Post | Weekend, April 2nd – 4th
Posted on: April 2, 2021
The Latest | Texas With Work to do for Omari Abor
– CJ Vogel
The first week of March I was over at Duncanville where I discovered the new Texas staff had not made much of an impression at one of the most talented high schools in DFW. Here's what I had written specifically about Omari Abor:
While DE Omari Abor was not at school to talk with in person, I was able to dig up that Abor has not heard from Texas since the coaching staff change.
For whatever the reason is, Texas is not making a real push at Duncanville in the 2022 class. They recently offered 2023 CB Deldrick Madison, though it does not appear like the staff has really made a deep impression at one of the state's best at producing talent year to year.
Abor was at the True Buzz Invitational to watch some high school teammates and friends in action. Fortunately, I was able to catch up a little bit with him to see just how his recruitment was progressing and to finally get some information on his contact with the Texas staff.
"I hear from Texas a lot," Abor said. "I'm not going to say every day, but every week."
The main piece of communication for the Longhorns has been defensive coordinator Pete Kwiatkowski. When I was at Duncanville, they told me Bo Davis had not reached out to the school, so this makes sense.
For the time being, Abor says he only has one official visit locked in – Ohio State on June 4. He added that he likely won't use an official visit on schools within driving distance, so the odds Texas gets one are very low. However, he added that Oklahoma will likely get one along with Alabama, USC, Arizona State and LSU.
As for the schools that he will visit unofficially, he did include Texas, Texas A&M and possibly TCU.
Abor mentioned the three schools that are hitting him up the most so far are Ohio State, Alabama and Oklahoma. I imagine those three are in a league of their own with Ohio State leading the standings in my personal opinion.
Texas has a lot of work to do to get back into this recruitment and it'll start once he gets back on campus. Abor mentioned he will be committing at the Under Armour All American game so there is still a ton of time before a decision needs to be made.
---
The Latest | 2022 Wide Receiver CJ Williams
– Charlie S
One of our guys out in California spoke with 2022 wide receiver CJ Williams this past weekend and was able to get a sense of how his visits are working out.
If you recall, previously Super K mentioned that Williams was looking to set up his visit to Austin for June.
'Just chatted a bit with the father of 2022 4-star WR, CJ Williams (Mater Dei).
He tells me that they are working with Texas on setting up their official visit to Austin. They're working on setting it up for June.
Last I spoke with CJ he told me he decided to move his timeline up. He will be looking to make an announcement shortly after his official visits.'
Williams will visit Notre Dame first, he will head to Ohio State on the second weekend of June, and right now, his final confirmed visit is for USC.
CJ mentioned that he is speaking with Texas and the goal is to set up his visit to coincide with Maalik Murphy's visit to Austin.
Right now, the date has not been set, so we are not sure if they were able to make that plan work, but we will keep you posted once the date is set.
---
Jamarion Miller | In-Person Update
– Super K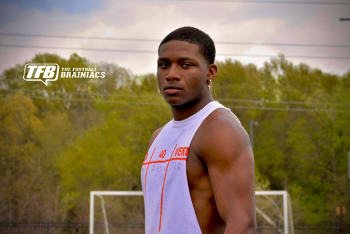 Yesterday, I stopped by to see 2022 4-star RB, Jamarion Miller (Tyler Legacy).
***Great kid and built like a boulder. Reminds me of how Reggie Bush was put together.
***I know he grew up a Texas fan and his brother was a Texas commit but I'll bottom line this for you…
***I think it's going to be tough sledding for Texas. Just seems like he really wants to go out of a state.
***Felt like Florida, Bama, USC, Okie State and LSU were higher on his list.
***He already has some visits set up and when I asked him if he has any plans to take an official visit to Texas, he said, he does not. I asked him about a possible unofficial and again, he said he didn't really have any plans on doing that either.
***I'm not saying the door is shut, but it just feels like right now Jamarion is going to explore the out-of-state options.
***He does plan on waiting until the fall to commit so there is still plenty of time in this one.
***But after speaking with him, I get why Texas is making sure they work in some other directions.
---
5-Star LB Harold Perkins Has Sights on Summer Visits
– CJ Vogel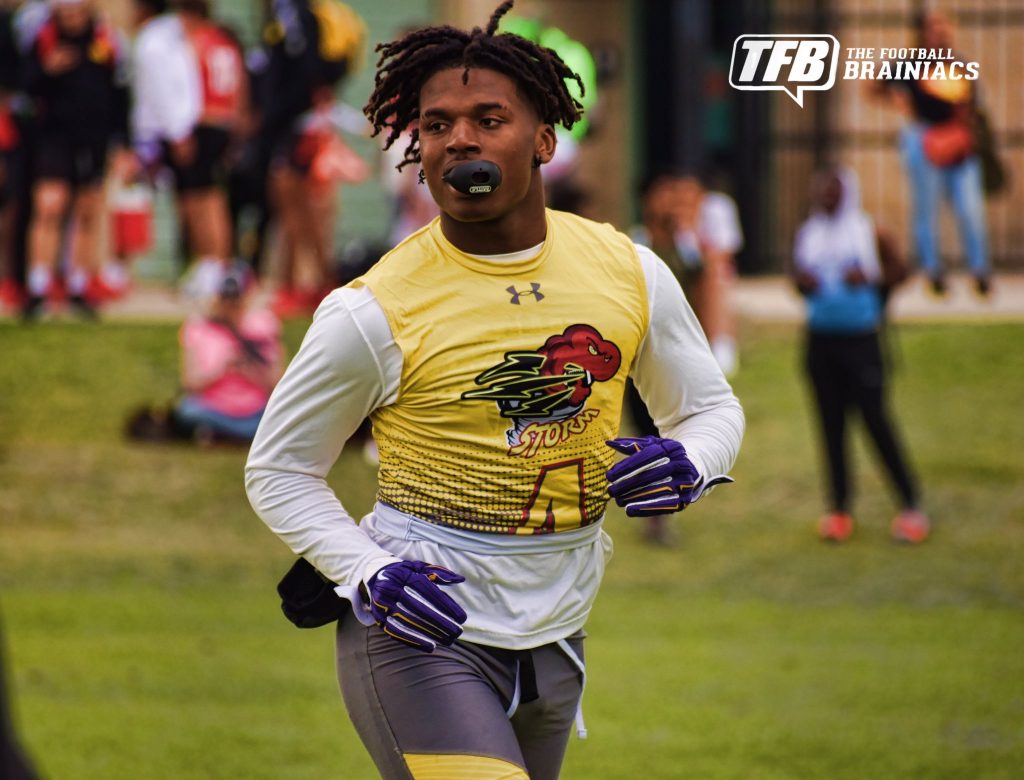 I saw 5-star Cypress Park linebacker Harold Perkins at the True Buzz Invitational this past weekend and caught up with him regarding the hot topic in the recruiting world: Official Visits.
For the time being, Perkins only has one official locked in so far and that is to Texas A&M on June 4-6.
He said he has yet to speak with the Longhorn staff regarding the official visit. With that said, I have very, very little doubt that the Longhorns will host him for an official at some point. Whether he decides to do so in the summer time or wait until the season, Texas at some point, will get him on campus.
I imagine Perkins will be visiting Austin more than once as he mentioned wanting to get down there for an unofficial and of course whenever the official visits roll around.
At the moment, Perkins told me the Texas staff is still hitting him up every day. The process of building a relationship with the staff is one of his biggest priorities when it comes to the Longhorns.
This is what I wrote on Perkins earlier this month:
With the current timeline in place, I think it's a bit premature to put much stock into who is "leading" for Perkins. However, I do feel like the Longhorns are in a really good position. Should they put on a good defensive showing this fall and continue to put on the full court press for Perkins, I have no reason to think they could not win this recruitment.
I still believe the Longhorns are in a really good spot to land Perkins should things go well on visits and during the season. Perkins isn't going to be swayed by hype or momentum on the recruiting trail, he's going to find the best spot for him.
But with that said, it's certainly not a bad thing to have as many guys in his ear as Texas currently has.
---
Juwan Mitchell Enters Transfer Portal
– CJ Vogel
After a tumultuous tenure as a Longhorn, linebacker Juwan Mitchell has officially entered the NCAA Transfer Portal.
Mitchell transferred to Texas out of Butler County Community College in El Dorado, Kansas in the class of 2019. He was a starter for the Longhorns in each of the last two seasons, racking up 99 total tackles, three sacks and a fumble recovery.
What we saw from Jaylan Ford and David Gbenda in their small stints last year should provide a slimmer of hope for the position, though again, the linebacker position is thin at Texas.