Open Post | Weekend, May 21st – 23rd
Posted on: May 20, 2021
The Current Recruiting Landscape
– Super K
Just wanted to pass on a note here to give you all a sense of where things are in the recruiting world, at the moment.
Things have been pretty quiet as of late and we anticipate it to continue to be a bit quiet for just a bit longer. This is going to be the calm before the storm.
The coaches have been given time off so they are on vacation. There are a number of players who are going to be looking to make their decisions in June and July. Once the visits begin in June, the coaches are back and the players are back it's going to be all hands on deck.
Should be a pretty intense and exciting month or two just before fall camp starts. Longhorns are going to have a chance to add some really nice pieces to their 2022 and 2023 classes. And, of course, it's always fun to hear how the players on campus are doing over the summer during workouts.
---
Recap | Texas' Last Couple of Offers
– CJ Vogel
Let's run through a look at the recent offers Steve Sarkisian and his staff have extended over the last week or so.
---
2022
OT Cameron Williams – Duncanville HS
I was shocked it took Texas this long to get an offer out to Cam Williams. He is without a doubt the biggest OL in the state and 6'7″ and around 360 pounds. But I have been a fan of his for quite some time now. He shows tremendous patience at the tackle position. Williams already locked in an official visit, though schools like Oklahoma, Ohio State, Oregon and Tennessee have all been in on him for much longer.
ATH Nyckoles Harbor – Lanham, Maryland
Texas went east to offer one of the nation's fastest in Nyckoles Harbor. The speedster claims 10.38 100m and 21.36 200m times in his Twitter bio which would have qualified him for the state finals in the 100m.
WR Barion Brown – Tennessee
Alabama currently holds one crystal ball for the 6'1″ WR out of Nashville. Brown received his Texas offer yesterday and is now up to 28 total offers.
2023
ATH Makai Lemon – Los Alamitos, California
Texas threw its hat in the ring for the nation's No. 1 athlete in the 2023 class. Lemon is a five-star athlete and currently ranked as the No. 19 player in the 2023 class by the 247Sports composite rankings. Texas will have an uphill battle here as it appears several schools are in better positions early on, including Oklahoma.
OT Payton Kirkland – Orlando, Florida
The 6'5″ offensive tackle out of Orlando notched a Texas offer a couple days ago. Right now, Ohio State and Florida State are pegged as 'warm' for the talented sophomore.
S Ryan Yaites – Denton Guyer HS
Texas is now in on Denton Guyer with the offer to safety Ryan Yaites. It's been a busy couple of weeks for Yaites who has received offers from LSU, TCU, Arizona and others in recent days. Yaites has 24.14 recorded 200m. He'll be a guy to follow moving forward.
TE Mac Markway – St. Louis, MO
Texas was pretty busy around May 5 with tight end offers and Mac Markway is a good example. As the No. 4 tight end in the country, who lives in the midwest, it will be a tough draw for Texas to get traction in this one.
2024
DL David Stone – Del City, Oklahoma
Texas went north to Oklahoma for 2024 prospect David Stone. With offers from Wisconsin, Baylor, Iowa State, Texas A&M and Oklahoma State, it is worth noting that the Longhorns got in before the Sooners, though there is a long ways to go to see if it will actually pay off.
---
Rueben Owens Visiting Other Programs
– Charlie S
Last night, Texas commit Rueben Owens (5'11 185) tweeted out that he plans on taking numerous visits.
Prior to his commitment to Texas, the Sooners were considered the stiffest competition to Texas for Owens. So, it may be significant that Owens tells us he will be in Norman on June 18th for the Sooners big BBQ visit weekend.
Just something to keep an eye on for now. If it becomes anymore than that, we will let you know.
---
Jeremy Patton set to Visit
– Super K
Last month, I stopped by Tenaha, TX to see 2022 linebacker, Jeremy Patton.
At the time, Patton had recently picked up a Texas offer. He told me the offer had actually come from coach Sark and Jeremy's actual contact with the defensive staff was limited at that point.
I've noted, that is sort of the way of things with some prospects. Arlis Boardingham was a similar situation. Sark gets in early and then the position coaches move in after.
That seems to have happened here with Patton. Jeremy has set up an official visit to Texas for the June 4th-6th weekend.
At the time, he had noted the other official visits he'd like to take were Baylor, Oklahoma State, Michigan and Tennessee. Oklahoma State was his first offer and the emotion with which he spoke about what that offer meant to him and his family was palpable.
He did tell me that his family basically grew up split between LSU and Texas fans. He has an uncle he's close to who is a big Texas fan. I think that could really play in Texas' favor.
He's the type of player I've been saying Texas needs to get. He doesn't necessarily have the ranking level but he has upside and he's focused. You can win championships with guys like that in your third year.
---
Quick Hitter | '22 EDGE Derrick Brown Cutting Things Down
– Charlie S
***Texas EDGE target Derrick Brown (6'4″) out of Texas high in Texarkana, TX will be cutting things down with an official top school list.
***I expect the number to be 8 and I can tell you the Longhorns will make the cut.
***Brown was high school teammates with Sooners EDGE Clayton Smith at Texas High
***He will be very active on the visit front in June with official visits set to Texas (June 4th), Texas A&M (June 18th) and Baylor (June 25th) while planning an unofficial visit to OU in the middle.
***Brown plans on officially visiting Norman for the Nebraska game in September.
***The visits will go a long way in helping Derrick cut his list down further as he looks to make his decision. Obviously, if he makes it out of the summer uncommitted, the way his visit schedule sets up would appear to favor OU as they would get the last visit on a game weekend. Should Texas push and wow him on the June official, they could potentially make those plans change.
---
Where Things Stand for Top 2022 OL Targets
– CJ Vogel
While Texas does not currently have any big boys committed in the 2022 class, the Longhorns have done a good job at positioning themselves with a number of the top offensive linemen in the state. I'll run through some of the top targets on the board and where I believe the Longhorns stand with each prospect ahead of the June visit window.
I'll toss down a soft confidence level as well. Keep in mind, these confidence levels will be significantly lower than most cycles. With no visits having taken place yet, it is tough to get a true vibe of where things stand for each school.
---
Kelvin Banks – Summer Creek HS
When I last spoke with Banks, he was still finalizing his official visit schedule. Since then he has locked in official visits for LSU, Oregon, Oklahoma State, Texas and Texas A&M. There are a number of positives working in Texas' favor right now. Banks grew up a fan of the Longhorns and has been in communication with Jaydon Blue and Maalik Murphy quite often over the last couple of months. I like Texas' chances here.
June 4 – LSU
June 8 – Oregon
June 16 – Oklahoma State
June 18 – Texas
June 24 – Texas A&M
Confidence Level: 7/10
Devon Campbell – Arlington Bowie HS
Campbell was slated to visit Austin for the second time in a three-week stretch last month but was unable to due to weather postponing his track meet. During his unofficial visit on April 10, Campbell was able to connect with a couple of players on the team and hang out in Austin. For now, Campbell only has OV's to USC and Oklahoma scheduled, though I would be shocked if Texas and Texas A&M did not receive one.
June 4 – USC
June 25 – Oklahoma
Confidence Level: 6.5/10
Kam Dewberry – Atascocita HS
I am a big fan of Dewberry's game. Texas has been in communication with him constantly ever since the offer was extended. Dewberry released a top five of Alabama, Oklahoma, Ohio State, Texas A&M and Texas on April 17. Right now, I think there is some work to do for Texas.
June 18 – Texas A&M
June 25 – Ohio State
Confidence Level: 2.5/10
Cameron Williams – Duncanville HS
I've been a pretty vocal fan of Williams' over the last couple months and was shocked to learn Texas had not offered him until the first week of May. However, if there is a reason to be optimistic here, Williams locked in his official visit just two days after his offer came in, which provides a good indication of how he views Texas. With that said, Oklahoma, Oregon and Miami are teams much further along on the relationship part of things right now.
June 4 – Oregon
June 11 – Miami
June 18 – Oklahoma
June 25 – Texas
Confidence Level: 1/10
Cole Hutson – Frisco HS
I have mentioned it a few times now, but the in-person visits are going to be massive Hutson's recruitment. Hutson has already taken unofficial visits to a number of schools already, but with how personable he is, schools will be able to distance themselves if they are able to connect with him when he is on campus. I have reason to believe Kyle Flood is really prioritizing Hutson as well, Texas stands in a good spot here, though Oklahoma and Texas A&M will have their fair share.
June 11 – Texas
June 18 – Oklahoma
June 25 – Texas A&M
Confidence Level: 5/10
Connor Robertson – Austin Westlake HS
Robertson has lived in Austin for just over a year now and has made it to campus a handful of times with the most recent trip being for the spring game. Texas is certainly in the mix, though Stanford might be the team to watch out for here. Robertson is the most likely to be the annual offensive lineman poached from the state by the Cardinal this cycle.
Robertson has yet to schedule OV's.
Confidence Level: 4/10
Neto Umeozulu – Allen HS
The Allen star is a tough read first and foremost, though with that said, I did not get the sense Texas was at the very tip top when I went to see him in person last. Umeozulu has visits locked in with USC and Alabama currently. Texas may be on the outside looking in on this one moving forward.
Confidence Level: 1/10
Jacob Sexton – Edmond, OK
Pulling an offensive lineman out of the state of Oklahoma is a tough task any year. While Sexton has been open about growing up a Texas fan, the odds still fall in favor of one of the Oklahoma schools to land him. Sexton is still in the process of planning out his visit schedule.
Confidence Level: 2/10
---
Bryce Anderson To Announce on July 4
– CJ Vogel
2022 4-star West Brook safety Bryce Anderson announced via Instagram that he will be committing on July 4.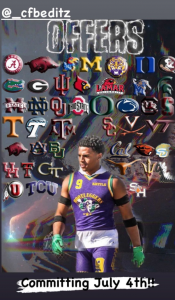 Anderson was originally scheduled to make a decision on April 9 though postponed the announcement. With the new decision date coming before any visits have been taken, it leaves one to believe Texas remains in as strong a position it has been from the beginning of the year.
Here is the update K had April 13:
I asked Anderson what happened and he said his plan is to commit either in August or sometime thereafter. He had mentioned that previously as a possibility. So, basically, it looks like he decided to hold off a bit and wait for some visits.
He tells me that he has an official visit to TAMU scheduled for the first weekend in June.
That will be followed by a USC official visit the second weekend of June.
Bryce says his plan is to be in Austin for the big Texas visit weekend, the third weekend of June. However, unlike the TAMU and USC visit, he says he will make the Texas visit an unofficial visit. He plans on taking his official visit to Texas during the season.
That is a good sign in my opinion. My overall vibe remains as it has been for months, Texas still leads.