Open Post | Weekend, May 7th – 9th
Posted on: May 7, 2021
A Couple of 2022 Names to Watch for Visits
– Super K
A couple of names to watch for 2022 players who haven't been talked about a ton…
***Texas is still looking to take a second running back to go along with Jaydon Blue. They've got their eyes on TreVonte Citizen out of Louisiana who is expected to visit.
Jamarion Miller is a guy they're still working on but the last time I visited him, he told me he had no plans on visiting Texas. That obviously can change but it didn't seem particularly promising.
Tavorus Jones out of El Paso already has a visit scheduled to Texas for the big 18th-20th weekend.
But I'm told an in-state back who could be making it in for an official visit before Jones is Newton running back, De'Anthony Gatson.
I'm still familiarizing myself with Gatson and we will likely get out to see him soon so I don't have a ton to tell you about him right now other than I'm told he's another target for that second running back slot.
***A 2022 player I did get out to see earlier this year was TE/LB Arlis Boardingham (Van Nuys, CA). Big athlete with elite fluidity. Has a lot of upside on both sides of the ball.
Sark offered Arlis pretty early on. I checked in with Arlis recently on what visits he has planned. He said he didn't have his visits worked out just yet but was going through that with his parents.
He did say that Texas and Arizona State were recruiting him the hardest.
I like the possibility of Texas landing Arlis because he has national championship level upside. It's going to be tough without on-field results to land some of the ready-made 5-star types. But if Sark can mix in these kinds of guys who look like they could have 5-star type upside then you're bringing in potential national championship-caliber players even if their offer sheet doesn't reflect that.
---
Name to Know | 2024 Lewisville S Jaydan Hardy
– CJ Vogel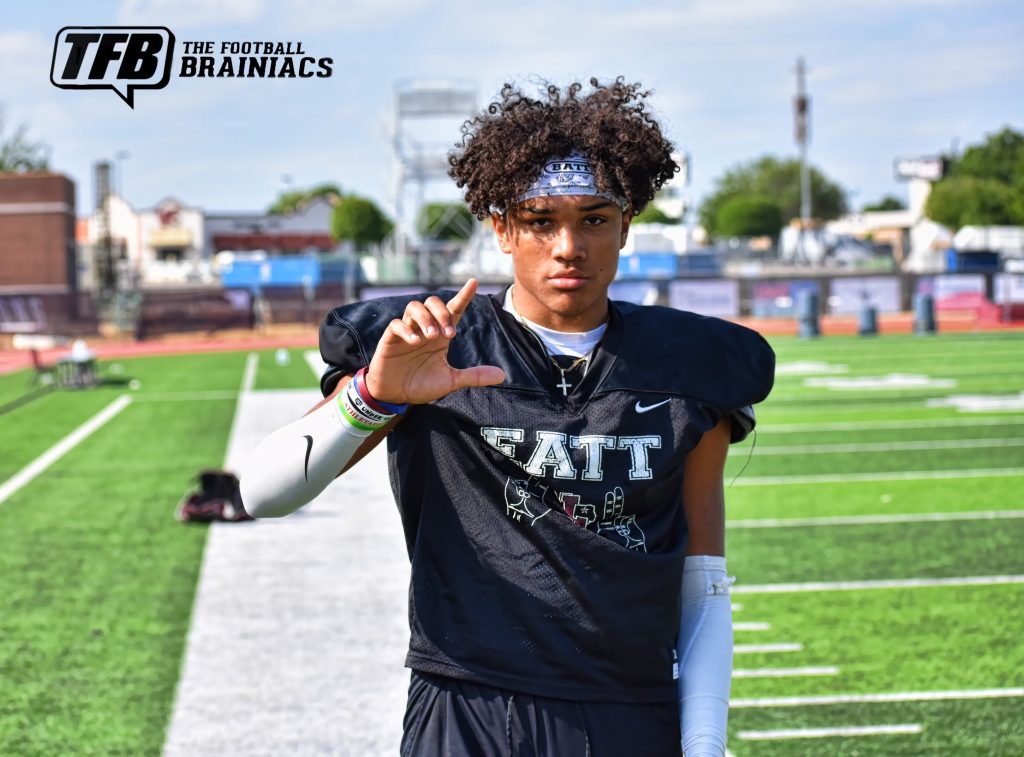 There is an elite 2024 in the DFW area that is going to be a name to know for Texas fans, and that name is Jaydan Hardy.
The talented Lewisville freshman has been receiving some early attention from schools across the region and it's likely the current trajectory continues well into his high school career.
Hardy currently holds offers from Illinois State and Mississippi State, though he told me he is has communicated with several Big 12 and SEC schools already.
Hardy tells me Texas A&M has been in contact with him quite often and has probably been the school that has reached out the most. Hardy told me he has interest in the Aggies "especially with them in the SEC. I like their bracket and who they play."
While there is high interest from Hardy to play in the SEC, that has not stopped Texas from kicking the tires early on. The contact is brief, but that is to be expected with any 2024 talent at the moment.
I would expect Hardy to at the very least take a look at Texas when the dead period ends. While it may appear that there is not much hope for Texas here, let me remind you that he is indeed a freshman and that things are going to take a long time here.
It is also worth noting that Hardy's father, Darryl, played at Tennessee and was a named to an All-SEC team in 1991. Hardy told me he grew up rooting for Tennessee as a kid and that they will be in consideration for his services regardless who else gets involved.
---
Follow-up on Arlis Boardingham Update
– Super K
As you know, yesterday we noted that 2022 Cali TE/LB, Arlis Boardingham was in the process of setting up his visits (link).
A 2022 player I did get out to see earlier this year was TE/LB Arlis Boardingham (Van Nuys, CA). Big athlete with elite fluidity. Has a lot of upside on both sides of the ball.
Sark offered Arlis pretty early on. I checked in with Arlis recently on what visits he has planned. He said he didn't have his visits worked out just yet but was going through that with his parents.
He did say that Texas and Arizona State were recruiting him the hardest.
It does now appear that Arlis has went ahead and set up his official visit to Texas for June 24-26th.
As I also noted yesterday, Arlis has 5-star type upside even though he doesn't have the 5-star offer sheet. Texas got in early here and if word starts to get out on Arlis that will come in handy because his offer sheet could really blow up.
---
CJ Williams Working on Summer Reschedule
– Super K
As you know, 2022 Cali wide receiver, CJ Williams (Mater Dei) was planning to take his Texas official visit on the big June 18-20th weekend.
CJ's father tells me that CJ has qualified for a track event that will take place on the weekend he was scheduled to be in Austin.
There was some thought that he might reschedule his visit for the season but CJ's father tells me that the Texas coaches, "have expressed they want him down there this summer rather than waiting till the fall".
That makes sense, especially given CJ's has mentioned the possibility of making a decision this summer.
CJ is working with coach Coleman to find a suitable summer date so the visit may end up being during the week instead of a weekend.
---
Quick Hitter | Cole Hutson to Narrow His Options Soon
– CJ Vogel
Stopped by Frisco this afternoon to chat with OL Cole Hutson. I'll have more on Hutson tomorrow when I get back to Austin, but here are some notes.
As we know, Hutson has three official visits locked in for now.
June 11-13 – Texas
June 18-20 – Oklahoma
June 25-27 – Texas A&M
He told me he plans to narrow down his options in the near future, aiming toward the end of the month. I have no reason to believe the three schools listed above will not be included in his final group.
I did not get the sense that one school had a significant lead over the others, but I wanted to note something interesting that Hutson shared with me during the visit. He talks frequently with Jake Majors and Logan Parr.
Hutson told me the vibe from the two of them about coach Kyle Flood is much more receptive than the reviews he was receiving about former OL coach Herb Hand. I'm not sure how much of an impact that will make, but it certainly helps Texas' cause to have two more positive voices in his ear about the new coaching staff.
---
Texas Still Portal Surfing?
– Super K
Sark and company have already added a number of players out of the portal to Texas' roster.
Most of the talk regarding the quarterbacks has been whether Casey or Hudson will get the start. But I am told that Texas is very much surfing the portal for a possible quarterback transfer.
The possibility of this came up as perhaps a backup quarterback. But, it really sounds like Texas is looking for a guy who can come in and compete.
Sark doesn't seem content with the idea of accepting that given the roster, this year will have a rebuilding element. They are trying to get as much competition going as possible.
I respect their sense of urgency.
---
Thirsty Thursday | 2021 Draft Analysis & Looking At The Newcomers
– D.T.
Welcome back to another edition of Thirsty Thursdays! As always, I'm here to try to help quench your thirst for Longhorn Football in-season and during the drought of the offseason, along with other topics of interest in Longhorn Sports this week.
2021 Draft Analysis (What it means for UT) …
The 2021 NFL Draft has come and gone and the Longhorns were active participants. After UT's Pro Day in March, I did a write-up about the performances of some of the draft hopefuls. Here's what was said and what actually went down.
OT Samuel Cosmi
Draft Projection: 2nd Round.
Cosmi really helped himself yesterday. Folks knew that he was athletic and as freakish as his 40 time was, it was his performance on the Bench Press that got folks excited. Cosmi's functional play strength and hip mobility gets questioned a ton when I read and hear other's opinions on him as a prospect. His effort and movement skills do not. I don't think there's any way that he lasts past the first 64 picks considering the premium position that he plays, although I still don't think he sneaks into the back end of the 1st Round.
Result: Drafted 51st overall (2nd Round) by the Washington Football Team.
Analysis: This one makes me look like I have a little bit of a clue. Cosmi landed squarely in the middle of the 2nd Round and will have a chance to start as a rookie in the NFC East. Did he really improve his stock much by returning after his 2019 season? He's the second Longhorn Offensive Lineman drafted since 2017 (Connor Williams) and the third since 2008 (Tony Hills).
EDGE Joseph Ossai
Draft Projection: 2nd Round.
Weird things have happened with Texas defenders in recent years and the draft.
With that being said, this is the best defender to come out of the program in a good while and I just don't see any way that Ossai doesn't go in the first 64 selections when professional evaluators watch his tape and then consider the performance that he put on at Pro Day. I think he ultimately ends up reuniting with Chris Ash in Jacksonville. The Jags hold picks 25, 33, and 46 in this year's draft.
Result: Drafted 69th overall (3rd Round) by the Cincinnati Bengals.
Analysis: I was hoping that Ossai would slide in somewhere between 50-64 but he ended up landing with the Bengals a few picks later. I'm not much of a gambler, but I'd be willing to bet on Ossai outplaying his draft position when we look back on this class in a few years. He's the highest drafted Longhorn defender since Malcom Brown was taken 32nd overall by the New England Patriots in 2013. That's a crazy stat. Compare that to Alabama when they're in the same living room on the recruiting trail.
S Caden Sterns
Draft Projection: 3rd – 4th Round
Dude tore this Pro Day up. Sterns' ball skills can't be questioned and after putting up the testing numbers that he did I have a hard time seeing him last long past the first 100 selections when also taking his recruiting pedigree into account. That would make him a likely 3rd– 4th Rounder. Keep in mind, Brandon Jones went 70th overall (3rd Round, 6th pick) last year with inferior measurables and comparable tackling tape, so I may still be underestimating Sterns' value to NFL teams.
Result: Drafted 151st overall (5th Round) by the Denver Broncos.
Analysis: Sterns surprised me so much at the Texas Pro Day that I thought that his testing numbers would overshadow the poor film that he had in 2020 and 2019. After all, Brandon Jones, who wasn't much better in my opinion, went 70th overall in the previous year with inferior measurables on paper. Maybe Sterns' voice on social media and off of the field over the past calendar year played a role in him going a little later than I projected a few months ago as well. I don't think that he is a lock at all to make the Denver roster as they have a pair of well-entrenched Safeties. It'll be interesting to see how things shake out for him as I do believe he could be a better pro than he was college player. He is the 10th Texas Defensive Back to be drafted since 2011.
DL TaQuon Graham
Draft Projection: 5th – 6th.
Graham is almost a lock now to be drafted after coming on during his Senior season at Texas and a solid performance at the Senior Bowl in January. It is recognized almost universally that Graham played out of position as a DE in Texas' 3-Man front, but he should transition nicely as a 3T in a 4-Man front at the next level. Graham is viewed as a guy with plenty of untapped potential. He has helped himself throughout this process and figures to hear his name called at some point during Day Three.
Result: Drafted 148th overall (5th Round) by the Atlanta Falcons.
Analysis: Graham is just another in a long line of players that former Texas DL Coach Oscar Giles has put into the NFL during his career. Graham improved in each of his four seasons in Austin and still has room for improvement as he heads to the next level. The Falcons made a pretty legitimate investment in him, which means that he has a good shot of making the opening day roster if he stays healthy. Graham is the third Longhorn DL to be drafted since 2016 (Hassan Ridgeway, Charles Omenihu), while Poona Ford and Malcolm Roach have solidified themselves in the league after going undrafted.
QB Sam Ehlinger
Draft Projection: Late 6th– 7th Round
Alright, I've gone back and forth on what I've thought will happen with Sam for a while now. Regardless of what anyone on any other Texas site says, Ehlinger wasn't impressive at the Senior Bowl. No QB other than Mac Jones helped himself there. Sam actually ran about where most expected him to. I think someone is going to take him late due to his intangibles, pedigree, and competitiveness. While I'm not sure he will ever get the opportunity to start in an NFL game, at worst, he's an interesting developmental piece for a few years that will add value to your QB room.
Result: Drafted 218th overall (6th Round) by the Indianapolis Colts.
Analysis: Ehlinger was the 34th pick of the 6th Round, which means that he went exactly where he was expected. He lands in a good situation in Indianapolis and could have a real chance to make the Practice Squad this season and possibly even make it to the Active Roster at some point in 2021. He is the first Texas QB to be drafted since Colt McCoy in 2010.
WR Brennan Eagles
Draft Projection: 6th Round – 7th Round
Things start to get interesting when you ask about and look around at what folks think Brennan Eagles' ultimate stock is as an NFL prospect. He's a huge WR, even by NFL standards. I've seen some project him as a Flex TE type and Red Zone weapon. I know some that think he can be a poor man's version of DK Metcalf. The only thing that I think we can all agree on with Eagles is that he's going to be an acquired taste. You have to have a vision and plan for how you want to use/develop him. He was billed as a 4.4 guy coming out of high school, but I think that the time that he recorded on Pro Day matches up with his play speed. Someone is going to take a flier on Eagles
Result: Undrafted, signed UDFA deal with Cowboys.
Analysis: I should have known better as there are only so many Wide Receiver positions available on rosters, (especially for Wide Receivers that don't contribute on Special Teams) but Eagles did not get taken late in the 2021 NFL Draft. His numbers on paper are intriguing enough to entice organizations to bring him in for minicamp and maybe even Training Camp. It's going to be almost impossible for him to make the Cowboys with the talent and depth in their WR room.
S Chris Brown
Draft Projection: 7th – UDFA
I'm personally a big Chris Brown fan. He was arguably the most consistent Defensive Back in the Texas program over the past two seasons. Unfortunately for Chris, he just doesn't have standout measurables or traits and he didn't blow anyone away on Pro Day with his testing numbers. He's almost undoubtedly going to be in someone's camp and I'd bet that he finds a way to be on a roster at the start of the 2021 NFL season.
Result: Brown went undrafted and as of May 5, 2021, has yet to sign anywhere.
Analysis: I wasn't particularly surprised that Brown didn't get drafted, but I am surprised to find out that he had yet to secure a place in someone's minicamp. Brown has never been a physical standout, yet he has found ways to make it at every level. We'll see how far that savvy and grit take him this time.
WR Tarik Black
Draft Projection: UDFA.
Black's testing numbers were great, he had a memorable performance at Pro Day. The issue for Black is going to be his injury history (multiple foot issues are a huge red flag for Wide Receivers), lack of production over the course of his career despite his measurables, and a lack of quality film. He's also going to have to answer for why his snaps decreased as the season wore on and why he ultimately was ineligible for the team's bowl game.
Black has prototypical numbers on paper but I would be really surprised if we hear that his name got called during the 2021 NFL Draft.
Result: Undrafted, signed UDFA deal with Colts.
Analysis: Things went as expected here. Black wasn't drafted, yet he quickly struck a deal to head to someone's camp based on his excellent measurables. With his lack of history as a Special Teams player, I have a hard time seeing Black stick around long at the NFL level.
May I also add …
Forgive me if this part of today's segment comes off as a bit "Aggy-ish," but I absolutely was paying attention to the names that were called over the weekend from the 2020 Washington Huskies Defense. Coach Kwiatkowski, who took over as DC in 2014, had 5 more players selected during the 2021 NFL Draft that played under his tutelage, running his total up to 20 (5 1st Rounders), with others that went 33rd overall (Byron Murphy, Kevin King), 36th overall (Budda Baker), 41st overall (Levi Onwuzurike), and 43rd overall (Sidney Jones), respectively within the same time frame.
If you go beyond the 1st and 2nd Round, you'll see that his list has been extensive in a very short amount of time.
Danny Shelton (3-Star)
Marcus Peters (3-Star)
Shaq Thompson (5-Star)
Hau'oli Kikaha (3-Star)
Travis Feeny (3-Star)
Kevin King (3-Star)
Budda Baker (4-Star)
Sidney Jones (3-Star)
Elijah Qualls (4-Star)
Vita Vea (3-Star)
Azeem Victor (3-Star)
Keishawn Bierria (3-Star)
Byron Murphy (4-Star)
Taylor Rapp (3-Star)
Greg Gaines (3-Star)
Ben Burr-Kirven (3-Star)
Jordan Miller (3-Star)
For comparison sake, Texas hasn't had a single Defensive player go in the 2nd Round or higher within the same time frame.
This year's additions to Kwiatkowski's trophy display were as follows:
1st (32) EDGE Joe Tryon (3-Star)
2nd (41) DT Levi Onwuzurike (3-Star)
3rd (100) DB Elijah Molden (4-Star)
5th (166) CB Keith Taylor (4-Star)
His work speaks for itself. A few guys on the Texas Defense that could add to his total after 2021:
DeMarvion Overshown – Overshown has to get healthy and still put on some weight, but the flashes he had in 2020 and the versatility he brings to the Linebacker position combined with his athleticism won't allow him to last long next April/May should he enter the draft. He's a prime breakout candidate, but I wonder if my optimism should be tempered with him missing spring ball. Overshown has early 2nd Day upside.
Keondre Coburn – Look at Danny Shelton and Vita Vea. I'm not saying Coburn is going to go 1st Round (his position has been devalued since those guys were drafted), but he is the rare 330lb+ guy that also has the athleticism to rush the passer and push the middle of the pocket on passing downs. The position he plays in Coach K's Defense lends itself to productivity and attracts NFL eyes with the right type of player there. I look at a guy like Alim McNeill (3rd Round, 72nd overall) as a good barometer to be comparing Coburn and his play to this season.
Josh Thompson – Thompson will check all of the H/W/S boxes. All he has to do is stay healthy this season and build off of what he put on tape in 2020. He will likely be an early 3rd Day pick.
D'Shawn Jamison – Jamison isn't going to be everyone's cup of tea due to his size, which will put a ceiling on how high he will go. He will also be hurt by Texas not allowing him to get any work in the Nickel to showcase more versatility. He could alleviate some of that with a strong showing in the postseason events. Jamison is a ballhawk and also has value as an explosive return man. He will test well and is pretty much a lock to get drafted next spring if he stays healthy in 2021.
________________________________________________________
Non-Early Enrollees I'm Excited to See …
4. Jonathon Brooks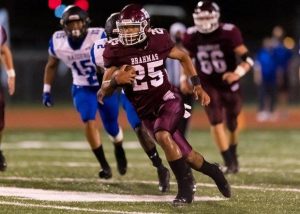 Call me crazy, but I think there's a chance that we could see Brooks in some capacity in 2021. Texas has a solid-looking RB room, but there is still a role available for a guy that can come in and add some explosiveness. Brooks wasn't known as a home-run hitter, but you don't accumulate 7,727 yards of total offense and 116 total touchdowns if you don't have the ability hit a crease and take it to the house. I've always had a good feeling about Brooks and I'm not backing off of it now.
3. EDGE Ovie Oghoufo
Between all of the potential EDGE options that have been brought in (Thornton, Richardson (?), Davis), Oghoufo has logged the most snaps of big-time football. He played plenty for the Fighting Irish during their CFP Matchup with Alabama. A high school Wide Receiver turned college EDGE, Oghoufo has the desired size, length, and athleticism that Coach K desires along his defensive front. I think that Oghoufo could emerge as the guy relatively quickly during camp, depending on how fast he can pick up the scheme.
2. WR Xavier Worthy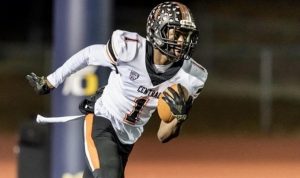 Nothing hard to figure out about this one. Texas needs juice in the Wide Receiver room and "juice" may as well be the speedy Worthy's middle name. If he can catch the football with any type of consistency, Worthy will see snaps this fall for the Longhorns and he has the ability to add an element to the Offense that it desperately needs.
1. TE/EDGE Ja'Tavion Sanders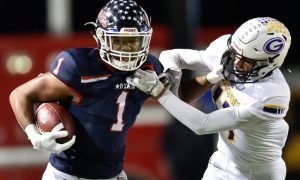 Sanders is the lone 5-Star prospect in the class and to the dismay of some Texas fans he will be starting his career on the Offensive side of the ball instead of Defense. Sanders will immediately provide the Texas Offense with a Red Zone option that opposing Defenses will have to honor and he could also still see snaps on that side of the ball. I can't remember the last time Texas had a true two-way player.