Open Post | Weekend, July 9th – 11th
Posted on: July 9, 2021
Evan Stewart Recaps Texas Visit
– CJ Vogel
2022 Frisco Liberty WR Evan Stewart stole the show on Saturday during pool play of the 2021 Pylon Nationals tournament.
After a month of visits, Stewart was ready to relax a bit and just focus on his game. Still, however, he was willing to discuss his visit to Austin and other officials.
"It was fun, it was real fun," Stewart said about finally seeing schools in person. "It was very eye opening. There was a bunch of people there of new faces and got to see a bunch of new recruits. Just stuff like that."
Stewart took official visits to Texas, Florida, Alabama and Texas A&M in June. While the Sooners are trying to claw back into this recruitment, Stewart told me he is not interested at the moment.
As for Texas, it appears the official visit for Stewart was a success. He came away from his trip with a greater appreciation for the city and school than he originally had which is a win for Texas in my opinion.
"It was bigger than what I expected," Stewart said. "Everybody said that Austin was urbanizing and stuff like that but they really are, and they're still going. That city is amazing, I was not expecting that."
Another positive note comes from wide receivers coach Andre Coleman. Depending on the Texas fan you ask, you will get differing opinions on Coleman, but he did a great job with Stewart on his visit and left an important impression.
"Coach Coleman is way different than the way he is on the phone," Stewart said. "He is a very energized person."
Steve Sarkisian and the staff are still in contact with Stewart everyday. The Frisco prospect is still a top priority to the staff, though the momentum currently leans in Florida's directions.
As for a decision, Stewart still wants to wait and see how the season plays out, or at least part of it. That was a big reason for his decommitment earlier this spring, however the promise of what Sark could bring to Texas has kept Texas in the mix.
---
Commitment Analysis | '22 OL Cole Hutson
– D.T.
The 13th commitment in the 2022 recruiting class for the Longhorns came in the form of some much-needed quality beef up front, when Frisco Offensive Lineman Cole Hutson announced his intentions on Twitter on July 2nd.
What's Texas getting in Hutson?
Ranking: 4 Star (#8 G) -ESPN, 4 Star (#8 G)-Rivals, 3 Star (#13 G) –247
Size: 6'5 310
Projected Position at Texas: Guard
Player Comparison: Hayden Connor (Texas 2021-)
Analysis: This one is exciting for me because I remember first posting about Hutson and some of his fellow line mates back on March 27, 2020, when at the time he was still yet to pick up his first offer from any programs on the U.S. mainland following a strong sophomore season.
Fast-forward to the following fall and Hutson would hold offers from all of the regional big boys, including becoming a major priority for Oklahoma, Texas A&M, Baylor, Oklahoma State, and Texas.
In the most recent update of my personal 2022 Top 60, Hutson rates as the top pure interior prospect (Devon Campbell and Kam Dewberry are considered Tackles by many) in this year's crop and the 33rd best prospect overall in Texas.
Here's what I had to say back in April: "Hutson puts guys on their backs over and over on tape. He's strong and he is nasty. He shows the ability to move in space, break down, and engage smaller targets. He's a road grader that projects on the inside despite his 6'4 frame. Hutson is still a work in progress in pass protection, but everything is there to be a high caliber FBS player. He is still wide-open, but I think that he is a strong candidate to land at one of the regional schools like Texas A&M, Oklahoma, or Texas."
From an analysis standpoint, all of that continues to hold true. Hutson is a legitimate 6'5 that stands out on tape with the ability to bend at the knees instead of the waist (which bodes well for his learning curve in pass protection), he is powerful at the point of attack, and is a guy that enjoys finishing plays on tape. He is at his best when he's tasked with a "down-block" (attacking the first thing inside of you) or when he's pulling with a head of steam for DE's or LBs that are trying to run fit. I think he will prove to be a weapon over the course of his career as a guy that assists on double-teams and works up to the next level to create running lanes. While I compared him to Hayden Conner, the comparison comes from the sheer size of the kid and his natural ability in the run game. I believe that Conner has the potential to play some Tackle, while Hutson does not quite have the same lateral agility or above-average feet.
A few concerns that I have from seeing him at the UA Camp in March, in addition to his tape would center around his footwork and a little bit of bad weight. He can be all over the place at times, but that will improve with repetition. Hutson is eager for contact, which can lead to him lunging and being off balance at times, which will lead to whiffs at the next level. He's naturally continued to get heavier and his body will need some reshaping once he meets Torre Becton.
To be clear, Hutson is not a sloppy prospect by any means. Like most young linemen, he's going to need some fine tuning, but all of the tools are present for Hutson to prove to be a quality player for Texas during his time on campus.
Instant Impact Rating: 2. I'm expecting Hutson to redshirt or provide depth as a True Freshman.
Long-term Impact: 6. Hutson projects as a potential multi-year starter during his time at Texas. If he can pick up the mental side quickly, he could push to play as early as year 2. 
---
Derrick Brown Pushes Back Commitment Date
– CJ Vogel
2022 Texas High LB Derrick Brown announced this morning he will be pushing back his commitment date.
Brown recently dropped a top two of Texas and Baylor, and ever since his visit to Austin on the first week of June, I have felt very good about the Longhorns' chances here.
With that said, the delayed commitment gives me some pause. Brown told me the Baylor visit went very well and he's been rather vocal about his time on social media regarding Baylor and his visit.
I am not trying to press the panic button on Brown now, but I believe Texas is going to have to fight a little harder than originally thought. This is a case where the closing abilities of the staff will be put to the test, something that has been a bit of a rollercoaster so far.
---
2023 WR Cordale Russell Firmly on Texas' Radar
– CJ Vogel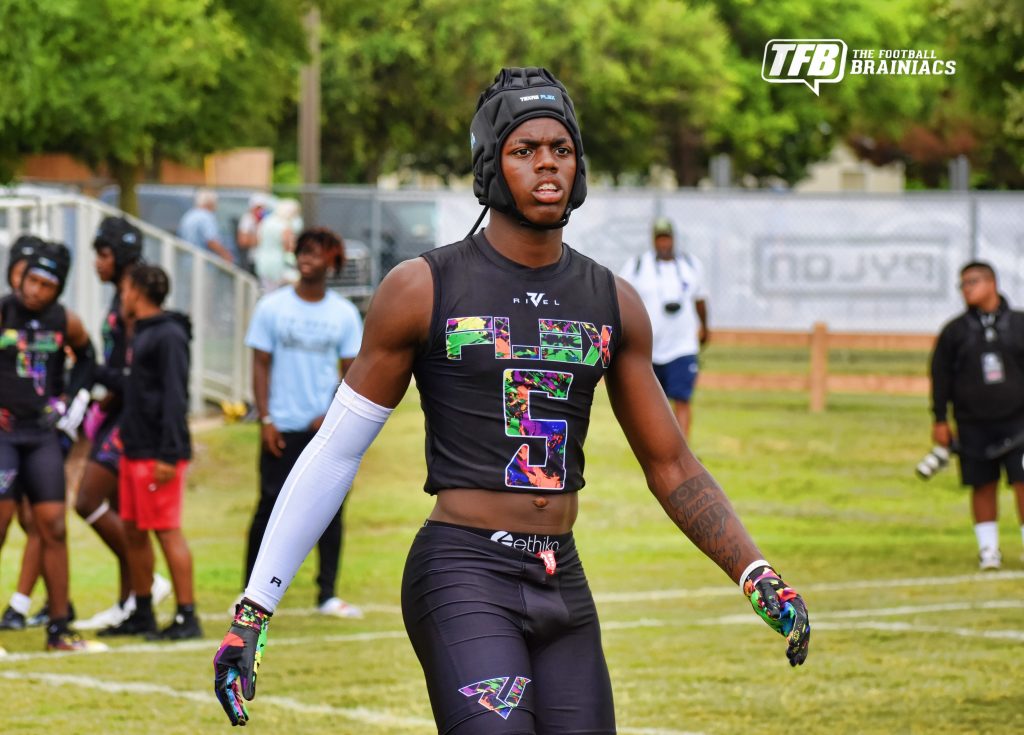 The 2023 class is loaded at the WR position, yet the elite receiver group is not complete without the inclusion of North Mesquite's Cordale Russell.
Nicknamed 'Baby T.O.' Russell has had a quiet summer from the social media side of things, however his play speaks for itself in the 7v7 world and camp circuits.
Russell is still awaiting an offer from Texas, but he was able to visit Austin this summer along with TCU and SMU. I caught up with him at the Pylon Nationals tournament to get an update on his recruitment.
"It was good," Russell said about his visits this summer. "It was a good opportunity to finally build bonds with coaches and see the environment of where I may be living for the next four years."
Russell visited the Longhorns on the weekend of June 10-12, otherwise known as the Elite Junior Day weekend for the 2023 class.
"I liked the environment down at Texas," Russell said. "I'm looking forward to building a bond with the new coaching staff."
Wide receivers coach Andre Coleman has been busy establishing relationships early on in this class and is doing a fine job so far with Russell.
"We have a good relationship. We have been talking a lot and he's been telling me stuff he wants me to work on. He told me he sees a lot of potential in me."
At 6'2″, Texas is pitching to Russell their need for big-bodied wide receivers. Russell reminds me a bit of current Longhorn Troy Omeire in stature and ball skills. Granted, I think Omeire is a bit more polished in his overall game, the potential for Russell is very high.
When the dead period wraps up, Russell hopes to make a trip to Florida to visit the Gators and UCF.  He said proximity to home is not going to be a big factor in his recruitment and actually hopes to commit somewhere that is a different vibe than what he is used to.